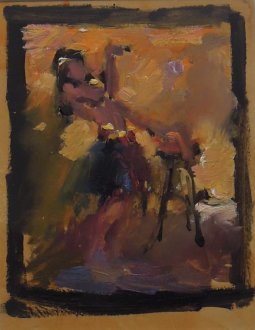 Jan Autengruber (1887 - 1920), a native of Pacov, was a painter, sculptor and draftsman.

Representation in the collections: His work is represented in the collections of the National Gallery in Prague, the Czech Museum of Fine Arts in Prague and the Antonín Sova Municipal Museum in Pacov.
Jan Autengruber was born on April 25, 1887 in Pacov, and since 1904 he has been studying at the School of Applied Arts in Prague, and subsequently at the Academy of Fine Arts in Munich. As part of his studies in Munich from 1907 to 1917, he completed a scholarship stay in Italy between 1914 and 1915. Thanks to his education, he achieves considerable virtuosity in portraits and in figural compositions, especially nudes, and in landscape painting. In 1917 he enlisted in Jindřichův Hradec with the 75th Regiment and painted the South Bohemian landscape, as well as continuing to work after the war. Jan Autengruber died in 1920 at the Vinohrady Hospital in Prague. During his hospital stay, he worked on watercolors and drawings with Old Testament themes. After the author's death, Autengruber's work falls into oblivion and its evaluation has only taken place in recent years. You can learn more about him through two books. A monograph by Jan Autengruber 1887-1920 and a guide to a new installation of his works in the gallery bearing his name in the town of Pacov.