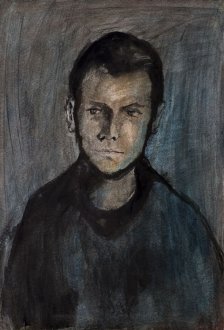 Jiří Balcar (1929-1968) was an important Czech graphic artist, painter, illustrator and typographer. He was a member of several artistic groups, including the Hollar Association of Czech Graphic Artists and the creative group May 57.

Representation in collections: His work is represented in the collections of the Aleš South Bohemian Gallery in Hluboká nad Vltavou, the Czech Museum of Fine Arts, GhmP and NG in Prague, the Regional Gallery in Liberec and also abroad at the Jacques Baruch Gallery in Chicago, Illinois or the Sztuki Museum. Łódzi.
His poetics was strongly shaped in his youth by the war generation, he was influenced mainly by existentialism and neorealism. Intellectual perception of the world and disagreement with the current state of Czech culture bring him to the editors of Květen magazine in 1955, which creates the first discussion platform of the young creative generation. Balcar's work from 1956-59 motivically follows the civilism of Group 42 (Pedestrians, 1957; City-Phantom, 1957-8), formally based on expressionism. In 1958, he leaned towards abstraction, which, however, does not lose its connection with the previous theme (Ulice III, 1957; Preludia I, 1959), it is transformed into a "city wallpaper". Balcar further develops the abstraction in an extensive graphic and later painting cycle of the Decrees (1959-61), in which he evaluates the impulses of lettrism and structural painting in a special way. In the years 1962-63, other significant groups of works were created, in which the image components are reduced (Events, Plates). His scholarship stay in the USA (Seminar of Art, Farleigh Dickinson University, Madison, New Jersey, 1964) again updates the issue of figuration. His work on the borderline between new figuration and existentially complicated pop art then determines his last creative period (1965-68) until his untimely tragic death. The dominant is intellectual irony and distance, but absorbed more and more by the tragedy of the feeling of life and reflecting modern loneliness. In addition to an extensive collection of virtuoso black-and-white graphics, color lithographs, drawings and paintings were created in this period, in which Balcar also confirmed himself as a suggestive colorist (Presidency, 1965; Hard to Describe Society, 1966; Porada, 1968; Údolí, 1968). Balcar also devoted himself to applied graphics. His modern civilian concept of the cover with the use of stencil writing (A. Camus, Exil and the Kingdom, 1965, World Literature 1964 and 1965) has long influenced Czech book graphics. He is also the author of a number of film posters (J. Huston, The White Whale, 1960; F. Fellini, The Road, 1962; Pearls at the Bottom, 1965).