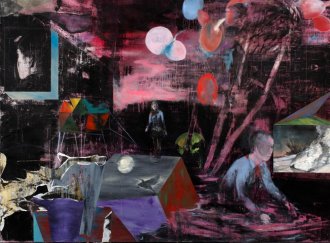 Josef Bolf (1971 Prague) is a Czech painter and draftsman.
He grew up in Prague's South City. His younger brother Štěpán is one of the founders of the A. M. 180 production team, which, in addition to operating the gallery, focused on organizing music events, including the Creepee Teepee festival in Kutná Hora. Josef Bolf studied at the Academy of Fine Arts in Prague from 1990 to 1998.

Between 1996 and 2002, together with Tomáš Vaňek, Jan Šerých and Ján Mančuška, he was a member of the art group BJ (Headless Horseman). In 2005 he was nominated for the Jindřich Chalupecký Award and in 2011 he received the symbolic award Artist of the Year 2010. He is the author of several comics and short puppet films.

Bolf's work is figurative. The typical heroes of his paintings were the figures of young boys and girls, lonely and often suffering, sometimes half-animals. His messages are emotionally strong: melancholic, painful and sentimental. He often draws ideas from his childhood spent in the housing estate Jižní město in Prague. Significant inspirations also include comics and science fiction. Josefína Frýbová writes: "Although the influence of horror and sci-fi films and literature is evident in Bolf's work (...), fictional themes tend to be set in the environment of our everyday life and the architecture in or around which we move daily, and added objects that surround us." For example, curator Edith Jeřábková also draws attention to the influences of classical European painting. Bolf most often uses the technique of drawing and oil painting. In some paintings he used American retouching. Typical for him is a procedure in which the motif is scraped into the ink applied to the wax substrate.

Outside the group, he exhibits individually until the end of the 1990s. From a large number of his separate presentations, let's name Everyone We Are Subject… in the House of the Lords of Kunštát at the House of Arts in Brno in 2008, You Are Not in the Gallery of the Capital City of Prague a Year Later, Don´t Look Now in the Berlin Branch , Soft and Heavy at the Trafó Gallery in Budapest in 2015 or a partial retrospective of Intuition of a Shadow at the National Gallery in Prague in 2019. In the past, the Prague hunt kastner artworks was represented.