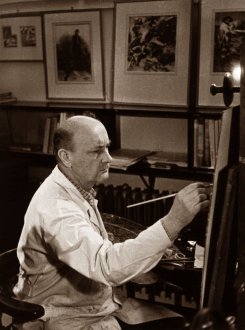 Zdeněk Burian (1905-1981) was a Czech painter, illustrator and draftsman.

Representation in the collections: His work is part of the collections of GAVU Cheb, the Moravian Museum in Brno, the Zdeněk Burian Museum in Štramberk, the Náprstek Museum in Prague and the National Literature Memorial.
Zdeněk Michael František Burian was a Czech painter and illustrator of adventure books. He was especially famous for his paleontological reconstructions together with Professor Josef Augusta. His artistic talent was noticed at primary school, at the age of 14 he was admitted to the Academy of Fine Arts (on the recommendation of illustrator Jan Goth and Max Švabinský), right into the second year. However, he lasted at school for less than 2 years and at the age of sixteen he began to make a living as an illustrator. He mainly illustrated adventure literature. The first book he contributed to was The Adventures of David Balfour by Robert Lousie Stevenson.

However, he received international recognition for the reconstruction of extinct animals and plants, which he worked on in collaboration with leading experts, including paleontologist Josef Augusta, anthropologist Vojtěch Fetter and others. Nevertheless, he was greatly neglected because the regime did not (among other things) like its orientation to Western literature, nor its active involvement in tramping, nor its great sympathy for the woodcraft movement.