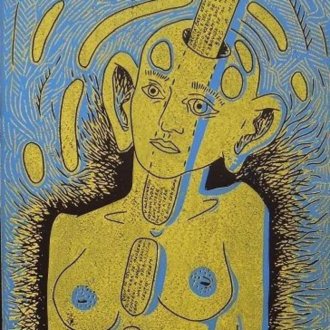 David Cajthaml (1959) is a Czech visual artist, set designer, costume designer, architect and musician.

Representation in collections: His work is represented in the collections of the National Gallery in Prague, the National Monument of Literature and, since 1995, also in the collections of the Ministry of Foreign Affairs of the Czech Republic.
David Cajthaml studied architecture and scenography with Professor Josef Svoboda at the Academy of Arts, Architecture and Design in Prague. He is a painter, graphic artist, writer and poet. He focuses on scenography, costume designs and minor interventions in public space. Since his youth, he has also been active as a musician (Energie G, 1979-1982) - he currently plays in the band DekadentFabrik, which he founded together with Otto M. Urban in 2009.

He uses a number of techniques in his freelance work. In Kavka book shop, we mainly present his work on paper, such as a drawing, a drypoint, a linocut, or an author's book. David Cajthamml can be included among the authors of Art Brut. Especially his drawings are created almost automatically. The pencil captures and depicts an event that is either a momentary vision or an internal recurring theme (Psychiatrists cycle). It also creates so-called automatic images, created by placing a simple shape next to each other - only the color is determined and also the fact that the shapes touch each other, which creates random groupings - imprints of the passage of time. "Intimate Geography", as the author himself writes. His scenographic spaces or plastic paintings are also known. Scenes take place at true physical depth in several layers.