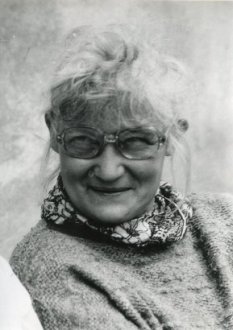 The work of Kateřina Černá is represented in the collections of the National Gallery in Prague, the District Gallery in Liberec, or also in the North Bohemian Gallery of Fine Arts in Litoměřice. She has been exhibiting since the 1960s and has already had more than eighty exhibitions throughout the Czech Republic and in Europe. In May 2017, she presented her paintings, collages, graphics and original manuscripts in the KAVKA bookstore.
Academic painter Kateřina Černá (born 1937), studied painting in the studio of Karel Souček at the Academy of Fine Arts (1957-1963). The handwriting of her work has been very feminine and lyrical from the beginning, which makes it different from her classmates and teachers. She published her first author's book in 1962. The handwritten notebook corresponded to the poetic style of her work. Since then, she has published artistically crafted manuscripts under the auspices of the "Private Handicraft Publishing House Grafoman", always in one copy or published at her own expense as occasional prints. These workbooks are either written and illustrated by hand, or are processed by etching and linocut graphic techniques. In addition, she is the author of classic oils, original structural assemblages. He connects etchings and linocuts with calligraphic records. In the programmatic naivety of her work, she always successfully moved without pathos and kitsch on the level of dreaming, the idealization of reality.
In 2016, the manuscripts of Černá were discovered by the graphic artist Anna Pleštilová, a graduate of the Academy of Arts, Architecture and Design in Prague and the owner of the Bylo bylo publishing house. It is dedicated to publishing poetry, author's books, children's books and adult fiction, which are created under the hands of several authors, are carefully edited and often hand-bound. Kateřina Černá's artistically tuned manuscripts correspond exactly to the publishing house's poetic focus, so Anna Pleštilová began publishing them in small quantities.