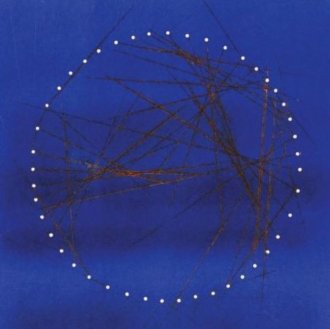 Dalibor Chatrný (1925-2012) was a Czech pedagogue, painter, typographer and conceptual artist, Ivan Chatrný's brother. He received a number of awards for his work - in 1985 it was the 4th Biennale der europpalichen Grafik in Baden Baden, in 1996 the Vladimír Boudník Award and in 2006 the Ministry of Culture Award for Contribution to the Fine Arts.

Representation in collections: His work is represented in the collections of almost thirty Czech and foreign galleries, such as Aleš's South Bohemian Gallery in Hluboká nad Vltavou, GhmP in Prague, Gallery of Modern Art in Hradec Králové, Olomouc Museum of Art, West Bohemian Gallery in Pilsen, Karl Ernst Osthaus-Museum in Hagen (Germany) and the Sztuki Museum in Łódzi (Poland).

Selection of exhibitions: His work has been regularly encountered since 1953, and so far it has been represented at more than four hundred exhibitions around the world. In the 1950s, he exhibited mainly in the Hollar Association of Czech Graphic Artists. In the 1970s he had a number of exhibitions abroad: Galerie des Stadttheatrres (with M. Cicvárek), Tilburg, 1971; Glaerie Klaus Groh, Oldenburg and Galerie Bernhard Löbach (with Ivan Chatrný), 1972; Ber Löbach Gallery, Niederdonberg, 1974 and his work is regularly exhibited: České Budějovice, House of Arts, Texts Brno, Moravian Gallery, Coincidence of Meeting, Michal Ranný Award, 2000; Brno Gallery, Brno, Kampa Museum, Prague, 2009, Trutnov City Gallery, Trutnov, 2010; Museum of Modern Art, Olomouc 2011 and Topičův salon, Prague 2011, Etcetera (with Jiří Staňek), Brno 2017.

Dalibor Chatrný connected with the Brno art scene. He is considered one of the most prominent artists of post-war abstract art in our country. The basis of his work was graphic work, but Chatrný looked at it from different angles, experimented with different media and devoted himself to them to the extreme. Certain aspects of his work interfered with contemporary action and conceptual art. The main themes of his work were the relationship to nature and the landscape, at the same time he dealt with the meanings and depiction of words and the artistic rendering of literary texts. In addition to graphics, drawing, painting and interpretation of photographs, Chatrný also experiment with audiovisual works. He was a member of the Club of Concretists, in the group Měkkohlaví, Umělecká beseda and in TTKlub.