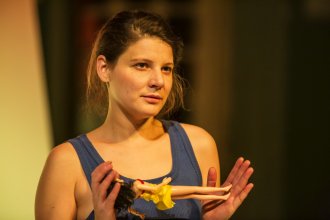 was born in Prague in Nusle.

She graduated from the literary grammar school of Josef Škvorecký and acting at KALD DAMU, where she graduated in the year of Jan Schmid. She has been a guest in theater Archa, Minor, Studio Ypsilon, in the Forman Brothers Theater.

Since 2003 she has participated in the realization of puppet shows and workshops abroad - France, Bosnia and Herzegovina, Macedonia, Peru and Mexico.


In 2003, she founded the author's theater ANIČKA A LETADÝLKO (www.letadylko.cz), which has performances for children and adults in its repertoire. It also organizes author's parties, thematic exhibitions and manages the author's publishing house. Now Anička collaborates with the Forman Brothers Theater, the Švand Theater Studio and the Czech Television. He devotes himself fully to his author's theater Anička a letadýlko and the fulfillment of other earthly and extraterrestrial dreams.