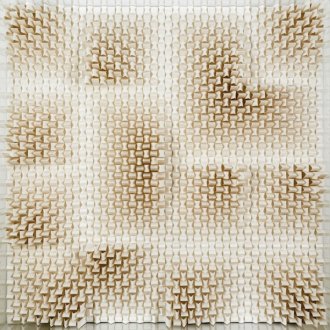 The sculptor, painter and graphic artist Jiří Hilmar was born on May 23, 1937 in Hradec Králové, he graduated from the Secondary School of Applied Arts in Prague and in 1967 co-founded the first Club of Concrete Artists. He left for Germany in 1969 and lived in Gelsenkirchen for many years.

Jiří Hilmar drew attention to himself in the 1960s with a series of optical reliefs. He is one of the most important representatives of the current, which is called op-art or optical art. Hilmar solves everyday questions and problems through simplified and free forms to the heart of things. But he is also interested in the kinetic principle in art. What can actually move - an object, a light, or is it about guiding the viewer to move his eyes, guiding his gaze and manipulating the possibilities of human vision?

Hilmar's famous reliefs were paper, but absolutely precise. He folded strips of paper into large square frames in various systems. He started with white, monochrome was gradually replaced by circles, red, blue and black, very ingeniously assembled into structures with optical qualities. Hilmar explored the aesthetic magic of geometry into all the folds of the relief space. It could be said that his work was motivated by spatial possibilities - how far a two-dimensional surface and the question of the experience of vision can be developed.

Since the 1980s, Hilmar has found a way to express his relationship to the functioning of the world in wood. Wood is an easily accessible material that has its memory, its musical quality, its special poetry. He is born, lives and dies as a human being. The artist works on wood with traditional tools, combining ground and roughly unpolished surfaces. It uses wood of various origins: apple, plum, pear or walnut. He plays with opposites - he drills square holes in round shapes, lets wooden walls grow and carves fruits, reconstructs the forest. The artist uses the creative power he seeks in nature and consciously resembles it. We can see Hilmar's work as the opposite of the technical world of civilization. The author expresses himself through installation, judicious composition of individual objects. These units in space can perhaps be understood as still lifes. Still life is always aware of the passage of time and transience and leads us to perceive the quiet life of things.