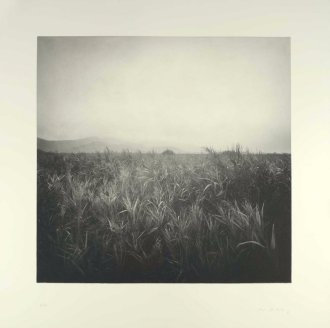 Jan Jedlička (*1944) is an important Czech photographer, graphic artist and painter, working in Zurich and Prague.
Jan Jedlička is one of several Czech artists who exhibit abroad in prestigious galleries and their work is represented in important world collections. However, his work is still little known in the Czech lands. He graduated from the graphic studio of Ladislav Čepelák at the Academy of Fine Arts in Prague (1962-1968) and then emigrated to Zurich, Switzerland in 1969. The Maremma region of southern Tuscany has become his lifelong inspiration since the early 1980s. He began to map it using various media - he drew, collected various types of minerals, clay, sand, dust from roads and made pigments from them, which documented the color of the landscape and fixed them as paintings. He photographed and captured specific lighting conditions in small mezzotints reminiscent of souvenir photographs, similar to watercolors. He gradually switched to large-format mezzotints, photogravures and screen prints. Another topic was the phenomenon of time when walking through the countryside. Cartographic drawings were created, where he recorded changes seen during movement. An important film then became a film that combined time, image and sound and later video.

KAVKA, in cooperation with the U Betlémské kaple Gallery, organized an exhibition for Jan Jedliček at the turn of 2015 and 2016, where it was possible to get acquainted with his photo prints, mezzotints and pigments. https://www.galerieubetlemskekaple.cz/vystavy/jan-jedlicka/ The work of Jan Jedlička attracted the attention of the company Art for Good and made the exhibition accessible to the general public via the Internet http://www.artforgood.cz/cs/virtualni-prohlidky/jan-jedlicka

Selection of exhibitions: 2007: Jan Jedlička: Il Cerchio, 2005-2006, Museum of Applied Arts, Camera, Brno; 2007: Jan Jedlička: Pigments and Designs, Cartographic Designs, Mezzotins and Stamps, Photography, Film and Video, Center for Modern and Contemporary Art (CAMeC), La Spezia; 1997: Jan Jedlička: Basilika, Basilika sv. George at Prague Castle, Prague; 1995: Jan Jedlička: Editions 1984-1995: Graphik - Photographie Zeichnungen, Schloss Arbon; 1995: Jan Jedlička: Kunstverein Freiburg, 1994: Jan Jedlička: Maremma, 1980-1994, Kinský Palace, Prague; 1992: Jan Jedlička: Maremma, Kunsthalle Winterthur; 1990: Jan Jedlička: Echo-il paesaggio, la casa, Folio, Books & Looks, Zurych (Zürich); 1987: Jan Jedlička: Lippische Gessellschaft für Kunst, Delmond; 1986: Jan Jedlička: Landscapes - Landscape - Landschaften: 1980-1985, Museum Bochum.