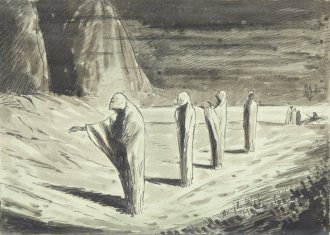 Jan Konůpek (1883-1950), graphic artist, painter, illustrator, architect and pedagogue. Member of the Art Association SURSUM and S.V.U. Manes.

Representation in collections: Aleš South Bohemian Gallery in Hluboká nad Vltavou, Gallery of the Capital City of Prague, Moravian Gallery in Brno, Museum Bochum, Bochum, National Gallery in Prague, Monument of National Literature, Prague, Museum of Applied Arts, Prague

Solo exhibitions selection: 2017 Jan Konůpek's Cosmic Architecture, Trade Fair Palace, Prague; 2011 Jan Konůpek: Hamlet's Bouquet, House of Arts, Ostrava; 2003 Jan Konůpek (1883-1950): Graphic work from the collections of the East Bohemian Gallery in Pardubice and the Gallery of Modern Art in Hradec Králové, Vlašský dvůr, Kutná Hora; 2000 Jan Konůpek: Graphics, Hollar Gallery, Prague; 1998 Jan Konůpek: A Pilgrim to Infinity / A pilgrim to infinity, Dům U Kamenného zvonu, Prague; 1995 Jan Konůpek: Selection of works (1905 - 1915), House of Arts of the City of Brno, Brno; 1983 Jan Konůpek 1883-1950, Old Town Hall, Prague; 1980, Jan Konůpek: Drawings and graphics, Museum Bochum, Bochum; 1969 Jan Konůpek: Drawings, Gallery of Fine Arts, Roudnice nad Labem; 1968 Graphics by Jan Konůpek, Hollar Gallery, Prague; 1963 Jan Konůpek: Landscapes, District Museum of National History, Prostějov (Prostějov); 1951 Jan Konůpek: Committee on the Work, Municipal Museum, České Budějovice; 1950 Jan Konůpek, Hollar Gallery, Prague; 1934 Jan Konůpek: Drawings, graphics, painting 1913 - 1933, Hollar Gallery, Prague


Jan Konůpek originally studied architecture, but Pavel Janák and V.V. Štech influenced him to study art school. In the years 1906–1908 he graduated from the Academy of Fine Arts in Prague, where he studied in the studio of Maxmilián Pirner with prof. V. Bukovac. In 1911 he co-founded the group of symbolist graphic artists SURSUM. His graphics are inspired by mysticism and visionary. His works from the beginning of the 20th century, which are influenced by symbolism and stylized according to Art Nouveau Klimt ornaments, are considered to be the most important. He participated in the illustration of symbolist and classical literature (K. J. Erben: Kytice, K. H. Mácha: May), he also created separate graphic cycles devoted to a large part of Czech and world literature. Many of his works were inspired by Gothic and Baroque architecture and the mysticism of the Middle Ages.