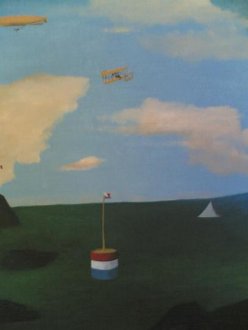 Kamil Lhoták was an important Czech painter, graphic artist and illustrator. He was one of the founding members of Group 42.

Kamil Lhoták, a native of Prague, already had an interest in art at the grammar school. Together with his artistic mother, he regularly attended exhibitions, experimented with art, and even published and illustrated a student magazine. Nevertheless, after graduating, he went to study at the Faculty of Law of Charles University, where he continued until the Nazis closed universities. At that time, he missed the last rigorous exam. but supported by the sale of his first paintings, Lhoták began to devote himself fully to painting. In particular, his early work is influenced by the fact that he did not go through any professional art studies. It bears features that are similar in self-study, such as a repetitive and relatively consistent range of themes, careful painting and processing, and the spontaneity of creation. This is most evident in the illustration, in which Lhoták did not use preparatory drawings and put his inspiration directly on paper. Fast, short strokes are typical for him.

Lhoták was influenced by artists such as Henri Rousseau, Josef Šíma or Giorgio de Chirico. The themes of his works often move at the turn of the 19th and 20th centuries and are mainly devoted to technical inventions of the time, such as cars, planes, airships, etc. However, they are set in a poetic environment, which is why Lhoták's style of painting is sometimes called lyrical civilism.

In 1939, Lhoták became a member of Umělecká beseda, in 1942 he was one of the founding members of Group 42 and also one of its most prominent personalities.

Since the 1950s, and thus also after the disintegration of Group 42, Lhoták, in addition to painting, graphics and drawing, has also devoted himself to illustration and work for film, thus employing himself in unfavorable political conditions. Since the 1960s, his paintings have changed slightly, both in terms of processing, more pronounced colors and thematically. The peculiar, special concept and balance of painting and color intensity as well as the magical depiction of real reality not only in this motif, but also in others, with which Lhoták comes in the 60s, was later called magical realism. For the rest of his life, Lhoták will experiment with more pronounced colors and greater expressiveness of his works.


After Lhoták's death in October 1990, he is survived by a work numbering over two thousand paintings, more than four hundred published book publications with his illustrations, over six hundred graphic works and countless free illustrations. In addition, he worked for the film, both animated and feature, his own book creation, including his diaries, the preparation of stamps for the Czechoslovak Post, he was interested in music, including the creation of scores, and much more.