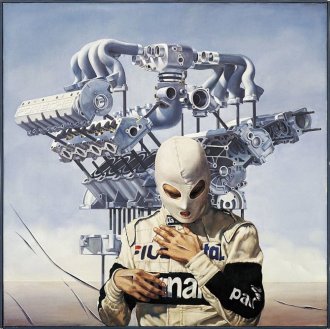 Theodor Pištěk (* October 25, 1932 in Prague) is a Czech painter, costume designer, set designer and former car racer. He is a world-famous author of film costumes and decorations and an Oscar winner for costumes for the film Amadeus by director Miloš Forman. Valmont received the César Award for his next film and was nominated for an Oscar. In 2003 he was awarded the Czech Lion Award for long-term artistic contribution to Czech film, in 2013 the Crystal Globe for extraordinary artistic contribution to world cinematography and in 2017 the Golden Shoe for extraordinary contribution to cinematography for children and youth.

Theodor Pištěk was born on October 25, 1932 in Prague. He graduated from the Academy of Fine Arts in Prague in 1958 in the studio of Vratislav Nechleba. Simultaneously with his painting work, he also established himself as a sought-after costume designer. He has participated in more than a hundred feature films, including classic works such as Vláčil's Markéta Lazarová and Údolí včel, Menzel's Hrabal Postřižina and the legendary fairy tale Three Nuts for Cinderella. Abroad, he became famous for his costume designs for Miloš Forman's films Amadeus, Valmont and Lid versus Larry Flynt. He won an Oscar for his costumes for the film Amadeus, and was nominated for this award for his costumes for the film Valmont. His uniforms of the Prague Castle Guard, created during the presidency of Václav Havel, are also well known.


In addition to painting and creating film costumes, however, Theodor Pištěk also pursued a career as a car racer, which he left in 1973.


Both environments, racing and film, are in a way also reflected in the author's painting, which Pištěk considers in a way a priority. The world of fast machines and car racers can be found in his photorealistic paintings. The world of film is a world of illusions that arise in the specific environment of shifted reality. In particular, film studios with their backdrop constructions play out a hidden semantic game of fiction and reality for the average viewer. This moment is one of the key themes of Pištěk's paintings. We find it not only in hyperrealistic works, but it also continues in other pictorial series that thematize space. Sovereign mastery of smooth painting allows Pištěk to suggest their illusiveness. In the 1990s, Pištěk worked with an infinite variability of spatial possibilities. He gives them the necessary monumentality and persuasiveness in his paintings. Last but not least, it is also necessary to mention the painter's color, his coloristic abilities and work with a colored surface.