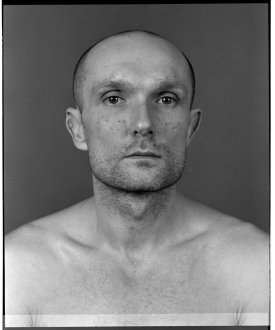 Luboš Plný (1961) is a Czech artist - sculptor, painter, performer

Representation in collections: His works can be found in the collections of private art brut collectors at home and abroad, he is in the collection of the Center Pompidou in Paris

Selection of exhibitions: He has been exhibiting since 1988 (Česk Lípa), 2002 (Millennium Gallery, Prague), mainly abroad - New York, Berlin, Istanbul. In 2017, he was the only Czech artist selected for the Viva Arte Viva exhibition! 57th Venice Biennale. The big exhibition took place in Prague's Dox in 2018.


Luboš Plný is a self-taught artist in the field of art. He trained as an electrician in Nymburk, but drew from childhood. He was interested in autopsies and in an effort to understand his own difficulties (he has been on a disability pension since he was 27), he also studied at the Faculty of Medicine. In 2000, after six years of working as a model in local studios, the Rector of the Academy of Fine Arts was awarded the title of academic model.


The central theme of Luboš Plný work is the human body, its functioning, limits and mortality. He consistently records his life, physical condition and mental and physical suffering in pefrormances and time-lapse documents. Most of his works can be described as "anatomical self-portraits" on the border of drawing and painting, conceptual art and scientific project. He uses not only inks and acrylics, but also organic materials and various objects from experiments performed on his own body.


Kavka currently offers an extensive set of artist monotypes of various sizes.