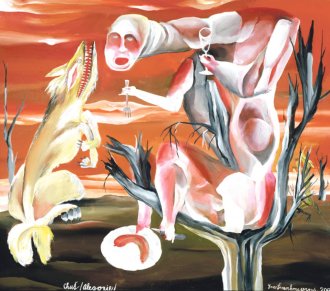 Eva Švankmajerová (1940) was a Czech painter, graphic artist, poet and novelist. She studied at the Theater Faculty of Puppetry at AMU. From 1964 to 1968 she was a member of the group May, and since 1970 a member of the Surrealist group. She is known for her surreal paintings, books and films at home and abroad. She has collaborated on filmmaking with her husband Jan Švankmajer, as well as other directors (including Evald Schorm, Jaromil Jireš and Juraj Herz).
She illustrated the books Solomon's Rag (2002) and Wolves (2010) by František Dryje.
For her work on the films Lessons of Faust and Otesánek, she received the  prestigious award Czech Lion ( Český Lev)  in the category of artistic achievement, and for the film Otesánek also the award for the best film poster.
Collections: Her works are owned by the Museum of Art in Olomouc and the National Gallery in Prague.
Selected exhibitons: She has exhibited since the 1960s in Prague (Mánes, Václav Špála Gallery, New Hall), Olomouc, Hamburg, Berlin.