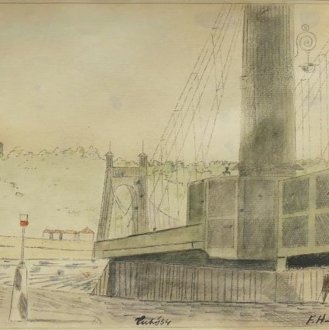 František Tichý (1896-1961) was a Czech painter and graphic artist, an important representative of Czech modern art.

Graduate of the Academy of Fine Arts in Prague. He was a member of Umělecká beseda. He was always out of group movements. An essential romantic, he developed his work in the atmosphere of contemporary poetics in themes from the circus environment (University I. and II.), Variety theaters, cafes, streets and the outskirts of the city (Hlava clowna). His paintings excel in the extreme economy of the painter's abbreviation, compositional and color sensitivity and have a tragic subtext.

The drawing of the Francis Joseph I Bridge with a view of the Letná Plain was created by Tichý in the mid-1930s, when he met with friends in the Prague café Union during his stays in Paris. One of them was the poet and writer František Hrubín, from whose legacy the work comes.