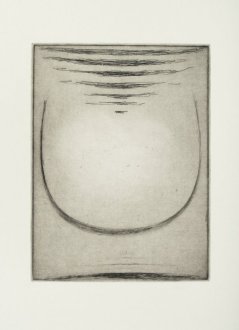 Born in 1949. Since 1968 he studied at the Academy of Fine Arts in Prague, in the years 1976-1982 at the Academy of Fine Arts Düsseldorf (Prof. N. Kricke).
Jindřich Zeithamml is best known as a sculptor. However, his lesser-known graphic works can be understood as a counterpart to his sculptural works. The artist's drypoints, etchings and woodcuts, capture independent and at the same time connected elementary features of a cross, circle, square, oval, spiral, helix, crescent or sinusoid, they always have their precisely determined composition. As with the well known large sculptures of big volume, the graphics are an expression of metaphysical forces and the eternal cycle of being through these elementary shapes.
It is typical for all graphics that they lack more specific names and almost all of them are copyright prints without numbering.
Selection of exhibitions: 2010 - Sculptures in the Baroque niche, Klatovy, 2006 - Dialogues (with M. Immrova), Hall under Plečnik's Staircase, Prague, 2003 - Gallery KAI DE KAI, Prague, 2000 - Gallery Klatovy-Klenová, 1995 - Gallery of the Capital Prague, Municipal Library, Prague, 1994 - Kunstverein, Kassel, Germany, 1993 - State Gallery of Modern Art, Munich, Germany, 1989 - Lamgnière Gallery, Saint Germain, Paris, France, 1982 - Art Cologne in Cologne, 1. award, Germany, 1980 - G. et S. Mathieu Gallery, Besancon, France.